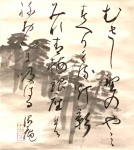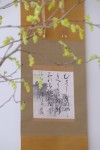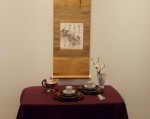 Shunbai Ginza
(Japanese style painter)
Original text Musashino no yami wa hare kuru
   I'll be back in the morning.

The darkness in Musashino is diminishing. Look at the shapes and forms illuminated by the lights.
   Even here in Ome, the neon-like brightness of Ginza has spread.

Kawai Gyokudo, one of the great masters of modern Japanese painting, loved the nature of Japan and painted many landscapes.
He was born in Aichi Prefecture in 1873, and at the age of 14, he studied under Mochizuki Gyokusen, a Japanese painter in Kyoto, and later under Kouno Umemine of the Maruyama School, greatly improving his skills.
At the age of 23, he moved to the Tokyo art scene, where he studied under Hashimoto Masakuni and mastered the Kano school. He developed his own unique style of painting, depicting the beautiful natural scenes of the four seasons of Japan in an emotional and realistic manner.
He was a professor at the Tokyo Fine Arts School and a member of the Imperial Academy of Fine Arts.
He was awarded the Order of Cultural Merit in 1940, and died on June 30, 1957, receiving the Grand Cordon of the Order of the Rising Sun.
Pendant Shaft Common Case
 Size: picture sizeW24×H26.5cm
       hanging scroll size W38×H117cm
Shipping: The total amount including the shipping fee will be noticed to the customer via email. Please contact via contact form or telephone to order this artwork.
Other works of Kawai Gyokudō