Buying a work of art might be something uncomfortable for some people.
We think that it is best to visit the gallery and see the work directly so that you can purchase with confidence. However, there are many people who live far away and are refraining from going out due to the recent situation. Therefore, we would like to introduce some points that you should keep in mind when purchasing art so that you can purchase art with peace of mind even on the Internet.
Authenticity of works of art
At Peacock Gallery, we guarantee the authenticity of the work.
All the works we are showing are genuine works (autographs). Depending on the work, a work certificate is attached. In addition, if you wish, we will attach a warranty card for GALLERY KUJAKU for works without a certificate, so you can purchase with confidence.
Shizuo Iga, the president of this gallery, began training as an art dealer at Gallery Kujaku in 1967, and since becoming independent in 1985, held an exhibition of five young Japanese painters (Seiichi Komori, Hiroshi Sugimoto, Toshiyuki Higashi, Eiji Hiraoka, Rinzō Murata), and in 1989, during the solo exhibition of Kaii Higashiyama in Hamburg, Germany, he accompanied the painter. He has deepened his friendship with many famous painters. With the aesthetics cultivated under such circumstances and many years of experience in the art market, he has delivered many artworks to museums and have continued to buy and sell first-class works of art. The president himself purchases the works with confidence.
GALLERY KUJAKU has a solid track record with many years of experience. We sell at a reasonable price, so please feel free to contact us.
Iga accompanies Kaii Higashiyama's sketch
How to find your favorite
Find your favorite artwork
What should we keep in mind when purchasing a work of art?
Here are some tips for finding your favorite work that fits your life perfectly.
If you are going to buy paintings and ceramics, please consider these as hints.
Think based on the characteristics of the place where you want to decorate your work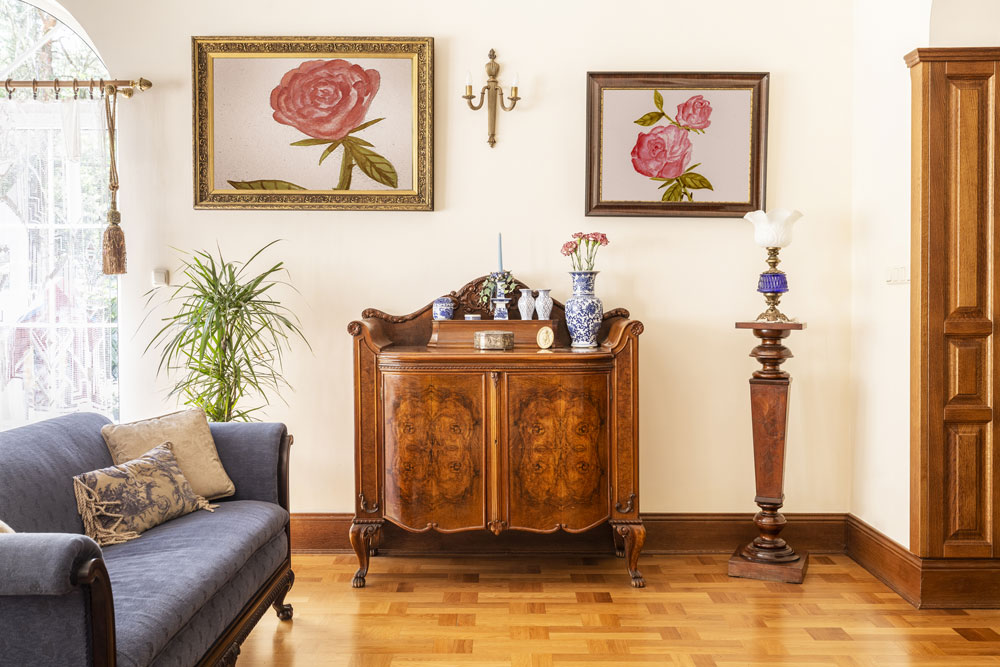 Entrance
The entrance is not only a place to welcome visitors but is also the place you see first when you come back home. If you want to buy artwork to decorate such a front door, you want to choose a work that has the highest feelings that will be a symbol of your house. 
However, the entrance is also a place where the temperature and humidity change drastically. Make sure you understand the characteristics of the paintings and pottery you have purchased, handle them properly, and carefully check your work once every few months for any changes.
Living Room
The living room is a place to talk with family and visitors. For example, if you purchase a gorgeous figure painting or a painting that deals with familiar subjects that are close to your life, it will contribute to creating a bright and enjoyable atmosphere for conversation.
 In the living room, where you spend the longest time of the day, it is also a point of comfort to choose the one that suits the taste of the interior.
The bedroom
How about a calm landscape painting or a fantastic abstract painting in your bedroom? It's a place to heal your tired mind and body and return to yourself, so be sure to choose and purchase the right one.
When decorating a painting in the bedroom, it seems that it is often laid out on the wall on the head side of the bed. However, doing so makes it difficult to see the work when you are in bed. So, if you can afford the size of the room and the size of the wall, try to make the painting you bought so that you can see it from the top of the bed.
Children's room
The important thing in a children's room is to choose the right work for the child. Adults tend to think that "every child likes bright colors", but some children like bright multicolored works and others like calm works with pale colors, so choose the artwork according to the individuality of the child.
By touching the real work from a young age, a rich sensibility is cultivated. Choose and purchase works that are kind to your child's growth.
Corridors and stairs
Corridors and stairs, which tend to give a murky impression, can be transformed into a comfortable space by decorating paintings and ceramics. If you decorate your work here, you will see it unexpectedly every time you pass by. For example, if you buy a cute little item that will make your face flutter every time you see it, it will heal your busy life.
However, like the entrance, it is a place where the temperature and humidity change drastically, so be sure to check the artwork regularly.
Consider the taste of the interior
Natural
If you have a natural-style interior with lots of white and wood-grain furniture, you will be familiar with paintings such as light drawings and simple landscape paintings. On the other hand, if you choose a painting with bright colors, it will be the main character in your room.
Modern
For a modern room with a simple and stylish impression, how about abstract paintings and lithographs with clear color schemes? The room, which tends to be a little unfriendly, becomes a friendly space by decorating such works.
Classic
For interiors with a classic taste, you can create a more magnificent space by decorating paintings such as gorgeous still lifes and portraits. Furniture with a strong presence is often placed, but it is a good idea to purchase furniture with a clear color that is comparable to that.
Asian
In a calm Asian-style room, you can decorate paintings such as hanging scrolls and Japanese paintings, as well as ceramics. If you have an impressive foliage plant, it may be interesting to link it with the color of the leaves and select and purchase a work that uses greenish colors.
When decorating your paintings, pay attention to the color, size, and shape of the wallpaper. You can also get hints for choosing a better work from whether you want the work to stand out as the main character or, on the contrary, to blend in with the existing interior. 
Think carefully about what kind of change you want to make in the space by purchasing paintings and ceramics.
Consultation on how to find works of art
Encounter with artworks is once in a lifetime.
Our art dealers purchase fine arts on a regular basis.
By telling us what kind of work you are looking for, you can keep an eye out for purchasing.
In addition, there are many materials to consider, such as color and profound feeling, depending on the place to decorate, such as the budget, the work that meets the living room, and the balance with the surrounding furniture.
If you rely on our wealth of experience and knowledge, we will be happy to help you find your work.