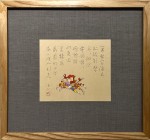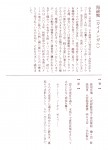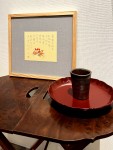 spider silk crab
(Japanese style painter)
Tendou Iwanami

Born in Tokyo in 1969. His real name is Shigeo Iwanami.

From the beginning of his youth, he aspired to become a Buddhist painter, but he decided not to pursue it, and in 1983, he enrolled in Bunka Gakuin's high school art course.
In 1983, he enrolled in the high school art course at Bunka Gakuin (recommended by the Western-style painter Masamasa Murai), but voluntarily withdrew in the same year.
In 1986, he studied under Eisuke Somekawa, a leading Japanese-style painter and Buddhist painter, and in 1991, he developed retinitis pigmentosa, an intractable disease, while he was sacrificing himself. In 1991, he developed retinal pigment degeneration, an incurable disease, while he was devoting himself to his work, and his career as a Buddhist painter was cut short.
In 1992, he took up ink painting and calligraphy and won awards at public exhibitions. In 1992, he began writing ink paintings and calligraphic works and won awards at public exhibitions, and later served as a judge and counselor at the Japan Calligraphy Museum.
His paintings have been recognized by Western-style painters such as the aforementioned Murai Masanobu and Kurata Saburo, and his works are in the collections of cultural foundations and museums in other countries.
Size: Size of painting: 14 x 16cm Size of frame: 31 x 33cm
Media: paper
Shipping: The total amount including the shipping fee will be noticed to the customer via email. Please contact via contact form or telephone to order this artwork.
Other works of Tendo Iwanami