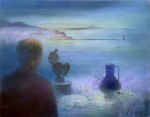 Mykonos evening
(Japanese style painter)
Sawato Fukui (Sawato Fukui, September 20, 1937-) A Japanese painter born in Asahikawa, Hokkaido, and raised in Otaru. Ikuo Hirayama.
Born in Shinmachi, Asahikawa as the eldest son of Sadaichi Fukui and Chie. He has lived in Shiomidai, Otaru City since 1939, and in Kotoni Town Aza Higashi Ranch since 1954.
After graduating from Hokkaido Otaru Choryo High School to Hokkaido Sapporo Kita High School, he entered the Faculty of Arts at Nihon University, but decided to go on to the University of the Arts after meeting Ikuo Hirayama, an assistant at Tokyo University of the Arts. In 1961, entered the Department of Japanese Painting, Faculty of Fine Arts, Tokyo University of the Arts. During the University of the Arts, he was a sportsman who belonged to the boxing club. After completing the master's course at the same graduate school, he became an assistant at the University of the Arts and participated in the reproduction of the Horyuji Kondo mural painting. In 1973, he went to Europe for the first time as a member of the Italian Renaissance Mural Painting Survey Team. He was a member of the Nihon Bijutsuin in 1983 and a director in 2002. Since 1991, he has been a professor of Japanese painting at his alma mater, retired in 2005, and became an emeritus professor. Since the 1980s, he has traveled frequently to China and India, pursuing the quiet and calm oriental beauty. Representative works include "Sakurajima," "Koyo," "Night Oasis," "Autumn Shadow," and "Castle."
Size: Picture size81×105cm
    Frame size106.5×130.5cm
Media:paper
Shipping: The total amount including the shipping fee will be noticed to the customer via email. Please contact via contact form or telephone to order this artwork.
Other works of Sawato Fukui