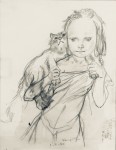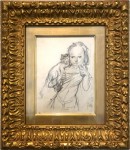 Cat and Girl
(Western style painter)
Tsuguharu Fujita (November 27, 1886 - January 29, 1968) was a Japanese-born French painter and sculptor. After becoming a naturalized French citizen, his baptismal name was Léonard Tsugouharu Foujita (also known as Léonard Fujita).

He was active in Paris from before World War I. His specialty was cats and women, and while incorporating Japanese painting techniques into his oil paintings, his unique "milky white skin" nudes were highly praised by the Western art world. He is one of the representative painters of the Ecole de Paris.

With certificate of authenticity

Framed

Year of creation: 1950s

Size] Picture size: W24 x H31 cm
         Frame size: W49 x H56.5cm
Shipping: The total amount including the shipping fee will be noticed to the customer via email. Please contact via contact form or telephone to order this artwork.
Other works of Fujita Tsuguharu